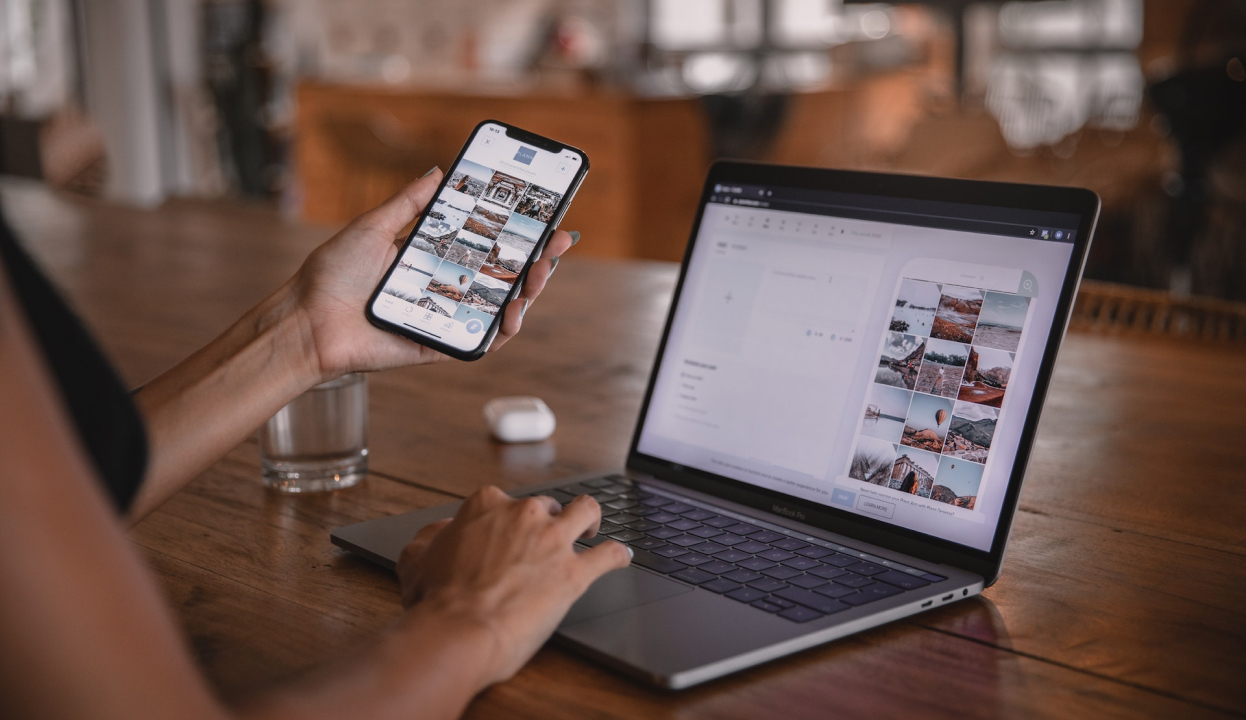 How to Build a Marketplace App: A Strategy to Follow
The global pandemic that has wreaked havoc all over the world for two years put to the test the resilience and even survivability of humankind and brought to a standstill entire industries. However, it has become an incredible boost for some domains, propelling enterprises to new heights. Online trade was one of the realms that flourished in the conditions of a shutdown the majority of countries introduced.
Within this booming field, marketplace platforms claim half of all digital purchases. Such astounding statistics turn online marketplace app development into a worthwhile endeavor promising enormous revenues to companies and individuals that decide to make a marketplace app the staple of their business plan. Yet before diving into the details of how to create a marketplace app, let's get down to the basics and find out what a marketplace is and what types of marketplaces exist.
A Marketplace and Its Benefits Explained
The organization of a digital business oftentimes replicates its physical counterparts. If brick-and-mortar outlets are represented on the internet by online stores, real-life shopping malls have their virtual match known as a marketplace. This online venue acts as a mediator between sellers and buyers, where multiple vendors offer their goods and services to the digitally-driven clientele that accesses them via a website or – and this is a more common story in our smartphone-powered age – a mobile app.
What assets does this business model promise to the stakeholders?
It facilitates cooperation between sellers and buyers.
It allows vendors to obtain a global reach.
It steps up the efficiency of enterprises by automating a fair share of the trading pipeline.
It lets sellers focus on promoting their products while delegating marketing and management to the marketplace owners.
It streamlines and accelerates shopping by enabling customers to find and buy whatever they need in a couple of clicks.
It triggers the network effect when every successful purchase adds up to a positive image and performance of the platform as a whole.
Given such weighty perks for users, marketplace app development is gaining significant traction nowadays. For astute entrepreneurs who think of overcoming all ecommerce challenges and entering the major league of this industry by building a marketplace app, the benefits of running this kind of business are apparent.
Less financial risk. To build marketplace app, you will have to allocate a comparable budget to making an ecommerce app, but with the former, you don't invest in goods or services that may not fly. You just offer other business actors a place to sell whatever they produce.
Scalability of business model. As a rule, such ventures tend to expand quicker than regular ecommerce stores.
Multiple income-generating options. Conventionally, marketplaces take commissions from sales. But app owners can add to this basic monetization model other ways of earning money, such as subscriptions, premium listings, ads, or even lead generation fees.
In-depth analytics. By monitoring the popularity of vendors or/and their products, app owners can shape their business strategy by prioritizing certain sellers or helping them to promote their goods and services.
Value proposition for vendors. Setting up their virtual shop on the marketplace is a cost-efficient and no-sweat approach to running an online business (in comparison to launching and managing an e-store) that attracts many sellers. Besides, marketplaces (especially new ones) can offer them low commission fees and provide top-notch customer experience for their clientele – a combination that is almost impossible to refuse.
Sounds like a mouth-watering business perspective, doesn't it? But before you decide to build a marketplace app, you should know what type to aim for.
Dissecting Marketplaces by Type
Several criteria are used to classify online marketplaces.
1. Target audience
According to it, marketplaces are divided into three categories:
Business-to-business. The best examples of B2B marketplaces are eWorldTrade and Amazon Business. Such ventures are meant to act as intermediaries between companies, typically between manufacturers or wholesale suppliers and retailers. They not only facilitate sales but ensure the financial transparency of deals and help organizations in their client hunt.
Business-to-consumer. Everybody knows about AliExpress, Amazon, or Booking.com. These are the most successful ones, but the number of B2C marketplaces that link companies with individual customers is vast. As you realize, it spells severe competition in this niche.
Consumer-to-consumer. Also known as peer-to-peer platforms, they help persons to sell or buy products under one virtual roof. Uber, OLX, and Etsy are among the leaders in this secto
2. Offer
Depending on what you can find there, marketplaces can be.
Product. If you create a marketplace like this, it will deal in things – physical or virtual. Amazon and eBay will be your competitors in this category.
Service. Such marketplaces as Uber, Upwork, Airbnb, and TaskRabbit help people to find service providers in transportation, accommodation renting, repairing, medicine, IT, and other spheres.
Hybrid. On OLX, Oodle, or Craigslist, you can discover and acquire both products and services.
Project. Kickstarter, Fundable, Indiegogo, and others act as crowdfunding platforms where startup projects can attract investments.
3. Focus
There are two groups of ventures here.
Vertical. Goods or services on such platforms are restricted to a particular field. For instance, Etsy specializes in vintage and handmade merchandise, and on Petit Vour, one can buy only ethically made beauty products.
Horizontal. Here you can buy anything from anyone. Remember the already mentioned Amazon and AliExpress with their fantastic choice of vendors and goods?
Management Approach
Here, the policy of marketplace runners conditions the following division.
Unmanaged. Their owners lay the responsibility for the quality of goods or services on the vendors. The only thing that protects consumers from flaws, defects, or inadequacies is the platform's review and rating system.
Lightly managed. Here, vendors are obliged to maintain return policies, money-back guarantees, and other quality-ensuring measures. Marketplace owners undertake to verify sellers' identities and control the enforcement of the declared standards.
Fully managed. Their owners exercise complete control over the sales process. For customers, these are the safest platforms to shop at, but for sellers, such tight supervision spells the highest fees among all three types.
If you want to create a marketplace app, understanding what type of platform you are going to launch is the departure point of the development procedure. Your choice conditions the feature roster the future application will have.
Marketplace App Features to Include
If you plan to build a complete marketplace app, you should create three panels for it.
1. Administration panel
It will be visible only on the back-end side of the app and is honed to be used by marketplace owners. From there, they will be able to control product inventory, manage orders, set commissions for vendors, manage ratings and reviews, categorize items, etc. To enable all such tasks, this panel should contain the following features:
Real-time updates from one dashboard
Customer management
Commission charging options
Tax management
User management tools
Invoicing opportunities
Itemizing by categories
Reports and analytics
Since the mission of this panel is quite unique, very often, app owners create a separate admin app (typically, a web app in its desktop version).
2. Seller panel
It is necessary for vendors to do their job efficiently. Its must-have functionalities include:
Sign-in
Display of URLs of vendors' stores
Order and stock management dashboard(s)
Listings management page with an opportunity to upload videos and photos, establish a price, add and edit product descriptions, etc.
Offers, discounts, and promotions
Transaction management
Reports and analytics
In-app chat
3. Buyer panel
Since customer satisfaction is what ultimately brings success to any app, this panel is mission-critical and contains the largest scope of functionalities, among which:
Registration and authorization
Personal profile management
Search mechanism (with filtering and sorting options)
Product listings (with images, descriptions, and prices)
Product comparison
Wishlist
Shopping cart
Order history and tracking
Secure payment gateway (which can be different for B2C and

B2B transactions

)
Customer reviews and testimonials
Discounts
Customer support (typically a chat)
Push notifications
This is the minimal roster of features a buyer panel must sport. But to stand out among competitors and attract customers by the dozen, you should equip your app (specifically its buyer panel) with such characteristics as social media integration, voice recognition, AI-powered image search, and augmented reality mechanisms. All of these enhance customer experience and keep abreast of the latest technological advancements in the IT realm.
Now that you know what to aim for, you should get at creating a marketplace app hammer and tongs
How to Make a Marketplace App: A Step-By-Step Guide
Our experience of completing online marketplace projects has allowed the team of EXB Soft to develop a universal 10-step roadmap for building marketplace apps.
Step 1. Get to Grips with the App Concept
First of all, you must pinpoint the problem your app is going to solve, identify its type and the niche it will fill, and set up clear goals the project will attain. Also, you should realize the benefits it will bring to consumers (the best quality, the best value, must-have products/services, luxury and aspirations, etc.). And don't forget to estimate the budget (a ballpark figure at this stage) you need to implement the project.
Step 2. Conduct Market Research
It is vital for projects in oversaturated niches like this since it will allow you to determine whether there is room for your app idea on the market. You should kick off with gauging your target audience size and needs or pain points to see if the project is worth investing in. Then, investigate the competitor sector, where you should first make a list of similar products to the one you are going to build. Once you have it on your table, analyze their features, design, monetization policy, etc., dividing these aspects into fortes and shortcomings.
Step 3. Define Your App's Business Model
Here we speak of the monetization approach. It is essential to select one this early into the project because the business model you will opt for has an impact on UI/UX choices app designers should prioritize. For a marketplace app, the most obvious monetization method is charging per transaction commission fee (flat or percentage). Other models, such as the membership program, featured ads and listings, etc., can supplement it.
Step 4. Finalize the List of Features for the App
Generally, it is a pretty standard roster, yet you may fine-tune it according to the type of your app or state-of-the-art technologies you would like to augment it with. While doing this, it is important not to overcrowd the app with too many functionalities and steer by three priorities: usability, UX, and branding.
Step 5. Collect a Team of Developers
Typically, such a team includes a business analyst, a back-end engineer, an Android or iOS specialist (or both), a UI/UX designer, a QA expert, and a project manager to lead them. If the scope of your project is significant, you may need additional developers for any of these jobs.
Step 6. Select the Tech Stack
This is the responsibility of the developers since they will pick the tools and technologies they are comfortable with and those that are sure to be efficient in solving particular tasks.
The foremost choice they are to make is the operating system (iOS or Android), depending on the preferences of your target audience. Or you may go for both to maximize the customer reach. Then comes the selection of programming languages, frameworks, databases, cloud environments, and numerous tools for creating different features (like push notifications, payment gateway, or in-app chat)
Step 7. Build a Prototype
This stage is about UI and UX. By creating a prototype of your app, you will determine the operationability of the product, model user behavior, and map out the position of buttons on the screen. Plus, you can consider the app's design and choose among several styles the team usually suggests for the UI.
Step 8. Develop and MVP
A minimum viable product is meant to check whether your app idea holds water technologically and business-wise. This is the primitive version of the app with only the basic features that is tested in real-life conditions by a pilot user group. As soon as you collect and analyze their feedback, you will understand what they enjoy about your app and – more importantly – what they don't. Their complaints serve as guidelines for improving app functioning and eliminating bugs and inadequacies the MVP exposed.
Step 9. Code away
When you know how to upscale and enhance your app, you can develop the full version of it. Special attention should be paid to third-party integrations that will provide the user audience with additional amenities, such as personalized emails, GPS services, or chat messages.
Step 10. Test and Launch the App
Even though the MVP has been tested, the final version of your product should be rechecked to safeguard its error-free and seamless operation. The product is ready to be marketed when all bugs and glitches are removed.
Evidently, creating a marketplace app is a no-nonsense endeavor that should be entrusted to vetted experts in the realm. If you hire web developers of EXB Soft, you are sure to obtain a high-end product within the stipulated time and budget that will impress you with smooth functioning and elegant design.
Drawing a Bottomline
Digital marketplaces have tremendously increased their popularity during the pandemic by becoming robust mediators between vendors and consumers. Creating a marketplace app is an attractive business opportunity that far-sighted entrepreneurs can exploit to obtain a significant ROI. However, to get a first-class product that will find a large user audience and generate a stable income, you should meticulously think through all aspects of this business project and hire a team of seasoned software experts to implement it.