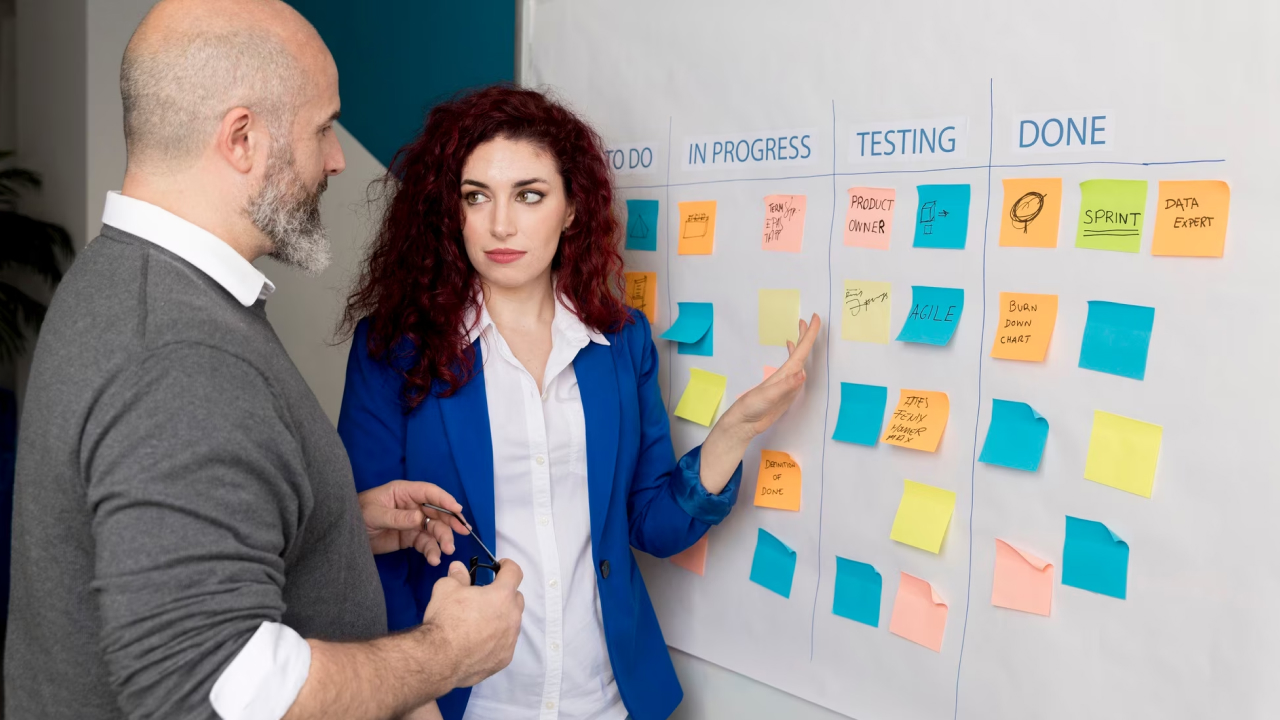 Why Business Analyst Is a Must-Have for a Project Team
What specialists do you need to see a software development project through? Evidently, the wanted list includes a back-end and a front-end architect, a UI/UX designer, a QA expert, a DevOps engineer (if you rely on this methodology), and other tech professionals who work under a project manager's guidance.
But very often, even when delivered by the most competent team, the solution won't fly. Why? Because you forgot about one more crucial figure in project development – a business analyst (BA). So, how important is the role of business analyst in the ultimate success of the project, and why is business analytics important?
What Is the Role of Business Analyst?
In any IT project, there are two parties to it.
On the one hand, there is the client side. This is the organization that commissions a new solution or plans to introduce changes to the existing one. Within it, there are two groups involved in the project – sponsors and stakeholders.
Sponsors are people (typically managers or CEOs) who order the project. They know the enterprise inside out and understand the chief objectives the future solution is going to serve since it is closely aligned with the company's business goals and marketing strategy. Alongside the financial initiative, sponsors provide support to the progress of the project and are held responsible for creating its success conditions.
Stakeholders are the end users of the software product. They are employees of a certain department who will employ it to do their day-to-day tasks. Their major concern is the usability of the solution, its smooth functioning, and error-free operation.
On the other hand, there is the IT crew that tackles the project. Its members have different tasks in the project implementation, but all of them are supervised by the project manager, who ensures controlling project scope, meeting deadlines, keeping the personnel on the same page, and ultimately upholding team efficiency.
What is the role of business analyst in this complicated puzzle of a structure? In fact, they are the glue that holds the entire system together. They act as a go-between during the project implementation, cementing customer-IT team relationships. Business analysts bridge the gap between both parties to understand the needs of the customer and make sure the development team does its utmost to address those needs while building a software product.
In view of the pivotal role a business analyst plays in project implementation, the attitude of decision-makers in the world of business towards them has been undergoing radical changes. Whereas before, business analysts were considered a part of the project team, performing their duties as long as the project lasted, now organizations hire them on a permanent basis turning BAs into their employees on a regular payroll. Such a tectonic shift in the perception of their significance caused a sharp spike in demand for BAs in the job market which is likely to manifest an astounding 25% growth by 2030 in the USA alone.
As a part of the in-house team, a business analyst's duties boil down to two principal activities, which are based on preliminary data analysis. The first is problem identification when the BA monitors the current IT environment to pinpoint gaps and bottlenecks impeding the attainment of business success. The second is problem-solving when the BA maps out a plan for addressing the problem and exploiting improvement opportunities. In this way, business analysts become change experts, facilitating digital transformation within organizations and ensuring robust communication of complex processes between departments.
Whether an in-house employee or a member of an extended development team, business analysts practice a project-based approach and thus have a similar scope of responsibilities.
Zooming in on Business Analysts' Responsibilities
As an IT vendor with business analysis services expertise, we at EXB Soft know that a good BA should be able to perform the following duties.
1. Business Requirements Elicitation and Analysis
This is a departure point in the work on any project. A business analyst conducts interviews with various representatives of the customer to elicit and validate business requirements. Then (s)he analyzes them to arrive at the complete list of principles to steer by while developing a solution and presents the exhaustive layout to the IT team.
2. Understanding the Current Systems' Possibilities
Of course, the software competence a business analyst has doesn't allow them to be aware of in-depth technical details of the IT infrastructure or a particular solution that is in use within the organization. Yet, their qualification must allow them to gauge its general efficiency and pinpoint areas where it underperforms. Such awareness presupposes keeping abreast of the latest trends and advancements in the IT realm and their possible impact on various business domains and use cases.
3. Vision Shaping
When the BA has all preliminary data at their fingertips, they should be able to use them as actionable insights and convert them into a strategy with a palpable output and a clear project development path to follow.
4. Task Translation
As soon as the strategy of the project is shaped, the business analyst shares this sequence of milestones with the tech personnel as well as customer representatives. Very often, it is not a one-time act, so the BA shuttles between clients and developers, conducting negotiations and maneuvering to keep everybody in the know of what is going on and what they should do next.
5. Task Decomposition
If the tasks appear to be too complex and unwieldy, a business analyst should split them into smaller user stories that are well-described and have transparent acceptance criteria
6. Conducting Presentations and Public Speaking
A business analyst should act as a spokesperson for all people involved in the project implementation (both the managerial staff and the rank-and-file personnel). In their presentations and reports, a BA has to be clear and explicit in communicating to them business requirements, designs, the project's progress, and other essential information, thus creating a positive atmosphere among the stakeholder
7. Defining both Functional and Non-Functional Requirements
These are often referred to as the whats and hows of the project. Functional requirements are to answer the question of what the final product should do, and non-functional ones are to show how it will be done (how the product will work). Although the latter are considered to be more important, a business analyst must keep both in the focus of their attention to control the capabilities and characteristics of the future solution.
8. Monitoring User Acceptance
However perfect the project plan and vision might be, it is the end user that ultimately determines the success or failure of the product. Business analysts check that the solution performs well at the customer's end, and if it doesn't, they must discover the reasons for the dissatisfaction and get the project team to eliminate the issues
9. Exercising Overall Support of Project Implementation
The business analyst starts their work as soon as the project is launched and accompanies it throughout the full cycle of its implementation. In case anything goes wrong, they are to address the problem, and if a change request occurs, they see to it that it is dealt with immediately.
10. Document Creation
All the project-related paperwork is the BA's area of responsibility. They compose both technical documentation for products and internal guides for the personnel where they make the specific jargon and technical terminology understandable for non-tech employees. Moreover, they create maintenance reports and system validation reports too.
The items on the list above are the major tasks of a business analyst. But in fact, BAs are also engaged in providing training and coaching to junior personnel, estimating costs, anticipating risks, updating procedures, analyzing commercial data (such as sales results, forecasts, and budgets), fostering team building, washing dishes (just kidding), etc. To cover such a broad field of expertise, business analysts must possess multiple skills.
The Scope of Competencies a Business Analyst Must Have
As a versatile specialist, a business analyst must have excellent:
Technical skills
A BA must be in the know of existing and emerging technologies to see how useful they can be in any particular use case. The same refers to business-critical tools (like CRM or ERP) and testing tools utilized in the IT industry.
Communication skills
Since business analysts spend most of their working time communicating with developers, managers, end-users, and other people, a tongue-tied person is not an option for this job. They must be not only an expressive speaker and good listener but a confident presenter as well to conduct meetings and showcase plans and results.
Research and analytical skills
BAs base their conclusions on the data they obtain through research and scrutiny. Whatever dossiers, user surveys, and workflows they have, business analysts must be able to make the most of them and draw valid conclusions.
Managerial skills
Such responsibilities of a business analyst as outlining the project scope, directing the personnel, dealing with change requests, observing time frames, etc., belong to managerial tasks that require corresponding competencie
Writing skills
A business analyst has tons of documents to create – from business requirements to use cases – so they can't do without such expertise either.
Decision-making capabilities
A BA must be able to assess input from stakeholders, analyze the situation, and opt for the best course of action to take. Such a problem-solving orientation is vital for the success of the project a business analyst participates in.
These are the benchmark criteria when you interview a business analysts for a project or as a regular employee for your organization. What perks can the onboarding of such an expert bring?
Why Should You Hire a Business Analyst?
EXB Soft has delivered several projects in the niche of business analytics, which made the benefits of hiring a BA evident to us.
1. Cutting down on Project Cost
Naturally, you will have to pay a business analyst as a member of the project team, but this investment will pay off in spades, thanks to the value they will bring to the final result. The plans they devise hardly ever need any overhauling, so all issues can be tackled just in one meeting, and no additional sessions will be necessary. Such efficiency is partly due to a number of alternative pathways of solving a problem a BA envisages for emergencies like this.
2. Increased Awareness of Business Goals
Working with the business requirements of the customer, business analysts elicit commercial objectives, thus helping the company to deeper understand attainable goals that will promote fast business growth of the organization.
3. Perceiving New Benefits
Once they identify business goals and conduct thorough research of the niche, business analysts can pinpoint areas of improvement that will enhance the company's workflow or reduce expenditures. Such innovation initiatives allow the organization to prioritize essential aspects and waste neither time nor resources on secondary things that won't become a game-changer.
4. Minimization of Risks and Failures
Since business analysts excel at anticipating bottlenecks and pitfalls in project implementation, they know what to do to mitigate the threat of failures and possible risks on the road to success. By contacting the right people and taking preventive steps, BAs forestall and eliminate threats and problems even before they appear.
5. High-level Planning
BAs are qualified to define user roles and develop detailed assignments for all experts involved in the task, thus making the most of the planning phase of any project.
6. Enhanced Communication and Cooperation
The responsibilities of business analysts embrace establishing robust interaction between stakeholders. They know how to communicate project goals to every team member, speak convincingly, and take business collaboration within the organization to a new level. Moreover, their listening skills allow them to collect feedback, hear dissident and cautionary voices, and choose the course of action that will satisfy the majority of participants. As a result, cooperation across the project team is continuous and seamless.
7. Improved Document Handling
The ability of a BA to create and review all kinds of project-related documentation (including the technical one) ensures excellent support of the product and enables keeping all paperwork in perfect order.
Greater ROI
All the previous boons translate into this one. The optimization of pipeline processes, cost reduction, research-backed decisions, meticulous planning, proper task delegating, and risk mitigation result in higher ROI and an increase in the company's revenues in general.
As you see, a competent and experienced business analyst can make a difference in any project and facilitate its successful implementation. The main thing for you to do now is to find such a person. And we can tell you where to look for them. The seasoned experts of EXB Soft have the requisite expertise to join a project team hired for the creation of any software product and boost its efforts with the aim of delivering a first-rate solution as a chief priority.
Drawing a Bottomline
Having the most qualified tech crew at your disposal doesn't guarantee the successful accomplishment of a software project. To reach the top result, you should include a business analyst in the team roster at the initial stage of its implementation. A competent BA will serve as a reliable liaison between the customer and the developers, making sure the future product is aligned with the business goals the organization pursues.