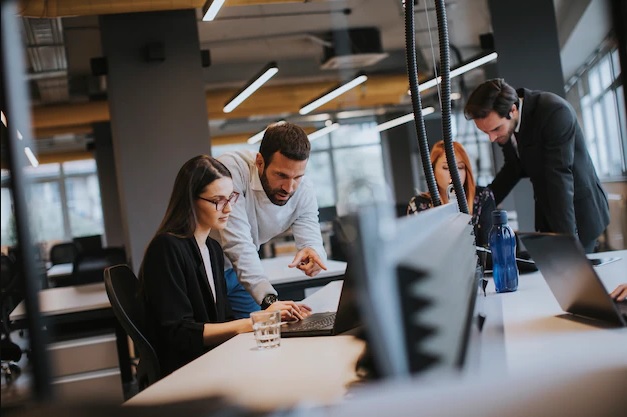 Benefits of Dedicated Development Team
Well-integrated talent helps businesses boost the technical potential and quality of software products while cutting the cost of their development. Hiring a dedicated development team is the best option for those who lack the expertise and time to train their own staff. What is a dedicated team model all about?
It is an outsourcing model where certain chunks of work are delegated to profiled specialists provided by a third-party specialized organization. The client poses the necessary tasks, and the future contractor provides a list of candidates and collaborative options based on the project specification. The formed team is fully focused on its implementation. The client controls the progress of work, while the provider deals with administration and support.
Such a scheme of interaction provides access to a wide pool of highly qualified specialists, which is why it is highly popular today. According to statistics, the global IT outsourcing market is expected to be valued at $397 billion by 2025. At the same time, more than 87% of organizations are seriously short of qualified personnel. For them, task delegation is the ultimate solution to achieve a completely new technological level.
At EXB Soft, we have been specializing in such services for the longest time, acquiring lots of firsthand expertise. Let's discuss the benefits of a dedicated development team so that you can indulge in them to achieve your goals.
Reasons for Hiring a Dedicated Development Team
Some compare a dedicated development team format of cooperation with a breakthrough in the practice of IT outsourcing, which fits you best if:
you lack the necessary expertise for project development or scaling;
the scope of the project cannot be accurately determined because the market is poorly understood or is not yet ready to accept your ideas;
you need to quickly create an MVP or move to a fundamentally new technology stack.
When it comes to long-term projects with plans for later expansion, or when you need to demonstrate rapid growth, an offshore dedicated development team can get you started right away. It may include a full set of specialists who will handle such tasks as:
DevOps
UX/UI design
QA and testing
Post-release support
You will have at your disposal a remote, usually small, but very close-knit team that will not be distracted by other tasks. And this will grant maximum freedom for growth.
Key advantages of an offshore dedicated development team
A high professional level and extensive experience of the involved employees make it possible to compensate for the lack of competencies to implement the most complex business idea. The performers understand the goals of the project well and are motivated to achieve a high-quality result. The client hires people and pays for the service at an hourly rate. This provides particular benefits.
Fast launch
The discussed model allows for minimizing the period of time between the decision and the start of work. Competent planning and field expertise make each preliminary stage as simple and fast as possible. You don't need months to prepare, gaining the ability to kick off work in just a few weeks or even days.
Cost-efficiency
The total cost of the project is determined by the complexity and amount of time required. Understanding the goals and correctly assessing the required resources allow you to optimize costs and eliminate the risk of getting the wrong result. Hiring a dedicated development team is a smart way to achieve not only high product quality, but also significant cost savings:
No payroll and tax costs;
No difficulties with the selection of personnel;
No specialist training required.
With this model, you spend less time, budget, and effort as compared to recruiting full-time staff (because you pay only for the actual hours to complete the task).
Easy to manage
The client can readily manage the third-party team's tasks, tracking progress and performance. This outsourcing model does not rule out the possibility of leaving micromanagement to their designated project manager, however. In this case, an outsourcer's PM will be personally responsible for setting up all work processes and reporting progress to the project owner.
Ensuring transparency and accountability allows you to monitor processes in real time. Basically, the client gets a full-on team of his own which is simply situated in a third-party office and can be easily managed using familiar tools.
Faster development cycle
Professionalism, experience, and an extensive technological stack enable task completion in the shortest possible time. It is extremely important that the client clearly outlines the time frame and insists on its observance. With precise planning, the outsourcing team will be able to work on one project full-time. Deep immersion in the topic allows specialists to achieve better results, and knowledge of market mechanisms - to present the finished product to clients faster.
Fast scaling
Hiring a dedicated development team improves the quality of new releases, and technical migrations while maintaining the flexibility of business operations. The client gets the latest software and hardware, as well as next to unlimited human resources. Outsourced specialists can also handle project changes at any stage, add functions and distribute tasks, and, if necessary, switch the team composition.
The model gives the business the flexibility it needs. Internal teams often have to use the same skills and technologies but at a much higher expense. In this case, the arsenal of tools will be much wider, and this will allow you to quickly scale your business.
Better collaboration
The project-oriented team can work in sync with the client's specialists. However, it is very important to establish reliable interaction, alignment of strategies, transparent communications, timely reporting, and instant response to challenges.
More opportunities
A wide range of solutions allows you to successfully cope with a variety of tasks, including those that were previously beyond your capacity. As if by magic, you will have a flexible IT infrastructure at your disposal with advanced tools for designing, developing, testing, and running software solutions. Hiring a dedicated development team enables you to use the best available and most advanced resources while saving your own.
The dedicated model creates the best conditions for collaboration due to stable feedback. Teamwork in a multicultural environment and post-release software support can also help your own specialists acquire more advanced skills.
How to Hire a Dedicated Software Development Team
In order to kick off any efficient collaboration, you must first align all the requirements and general scope of work. Apart from that, you will also have to take care of other underlying aspects.
Definition of requirements
The client sets the end goals and then discloses to the service provider the amount of work to be done. This makes it easier for business analysts of a company that provides dedicated development team services to determine the fitting size of the team. After that, priorities, timelines, and budget are discussed. The client describes the requirements for each element of the workflow, the preferred team size, and job descriptions.
Talent selection
The client can meet and talk with the team and personally clarify who will do what, how to organize access to development tools, and other details. At this stage, it is important to find the optimal balance between specifications, technology stack, and motivation level. You can talk to everyone to make sure that all new hires understand the challenge and demonstrate commitment to the project.
Staff integration
Starting a collaboration with strangers is always difficult. To make this process painless, the most convenient management tools and regular communication channels are selected beforehand. When you decide to hire a dedicated software development team, don't forget how important personal contact is.
Setting KPIs
The client determines indicators that adequately assess the effectiveness of the members of the new team. After that, they won't have to supervise the project manager too often. As a rule, KPIs are calculated at the beginning and analyzed at the end of the month.
After agreeing on all the conditions in order to respect the interests of both parties, an agreement is concluded. Everything is quite simple, but there are two BUTs. The first is the cost, the second is the quality of services. And here a potential employer always has something to think about and compare with.
How Do We Ensure Efficiency of Dedicated Teams
EXB Soft guarantees the expansion of opportunities for development that happens faster than clients expect. We are open to discuss any project ideas, which we perceive and implement as our own. We are committed to ensure the following aspects to our customers.
Full costs transparency
We respect our clients, which is why we always provide estimates with no hidden costs or additional fees. We strictly adhere to all SLA requirements. You know exactly what you are paying for and can plan your budget well in advance.
Ability to scale efficiently
We can quickly reinforce your existing team with in-depth experienced experts that tackle every area of IT and understand the specifics of your business. All of our professionals have excellent communication skills. With their help, you can significantly facilitate development, reduce downtime, and quickly achieve your goals.
We help you find a team of like-minded people who can enrich your project with their creative ideas and solve long-standing problems. With us by your side, you will get all the advantages of the dedicated model, including lower costs and a high level of professionalism from result-oriented specialists who pay maximum attention to your goals
Our Experience in Dedicated Development Team Services
Our experts have repeatedly proved the ability to embody the most daring ideas. Our portfolio includes many successful projects implemented jointly with large companies. We are trusted because:
We can start your project faster than anyone on the market;
We can offer IaaS, SaaS, PaaS, and FaaS development;
We have experience supporting cloud communication platforms for service providers and IT distributors;
We create custom web and mobile applications as well as more niche solutions;
Our programmers work with a wide range of technologies, including .Net, React, Vue.js, Angular, Node.js, and more..
Most importantly, our dedicated development team services guarantee simple and open communication with the EXB Soft team. Whenever you need help or even an answer to the simplest question, we will respond promptly. On top of that, our Ukrainian developers are well-known for their conscientiousness, hard work, and high ambitions. Working with us is easy and profitable.
Conclusions
An offshore dedicated development team is the best option for a variety of projects, startups, and developing enterprises. When choosing a service, you should focus on the experience of creating unique products before the deadline and maintaining them after the launch. Only then will the solution be optimal from all points of view.
Surely, you can try to find suitable specialists yourself if you wish. But well-proven professionals will certainly do better. Do not focus on your issues, do not waste precious time, but expand your capabilities right now. Contact EXB Soft to get dedicated development team services that are fully adapted to your goals!