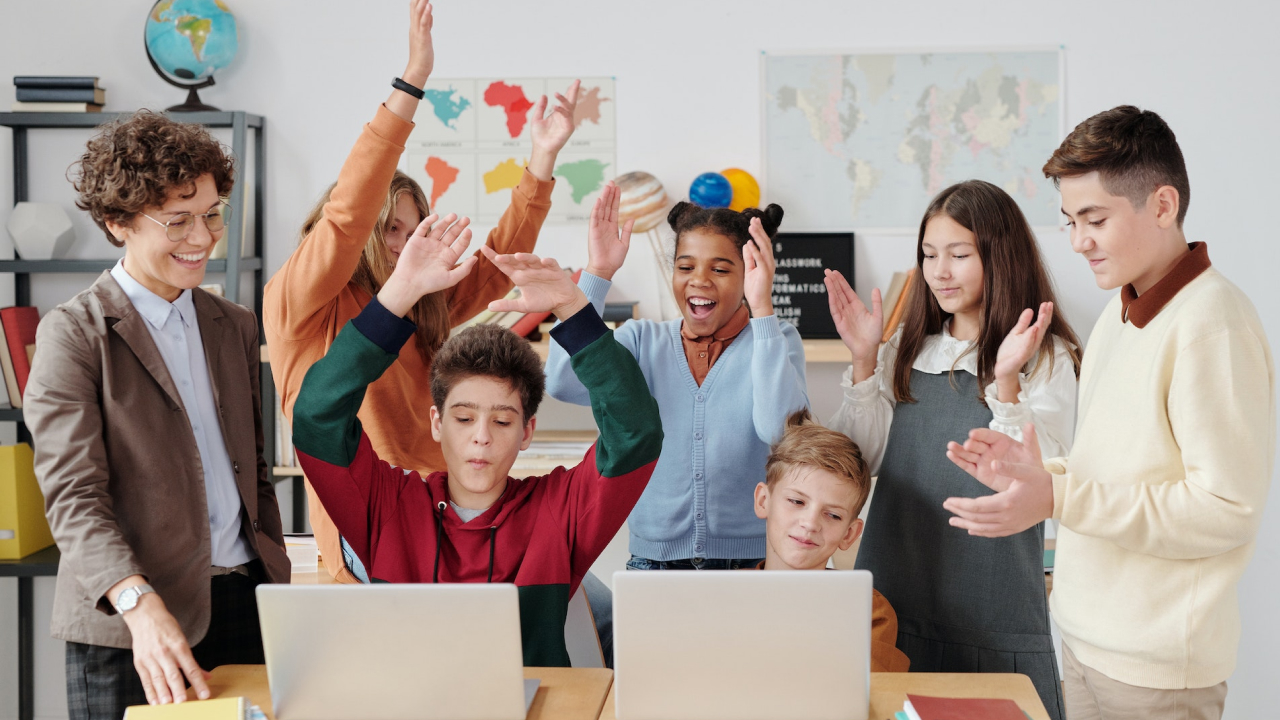 How Much Does it Cost to Make an Educational App?
The world is rapidly shifting online, and the education industry is no exception. With the help of special applications, we study foreign languages at home, master general and specialized subjects with handpicked teachers, and gain professional knowledge and improve skills via personalized platforms.
The global e-learning market is expected to hit $337 billion in global value by 2026. Which makes a very profitable business niche for developers and application owners. With great prospects ahead and high current demand, it is a great sector to launch your own app, website, or a bigger platform.
But what should an up-to-date educational app feature to be competitive? What results can it bring? And, most importantly, how much will it all cost?
At EXB Soft, we have been accumulating niche experience for years to now share pro tips and clarify these questions for you.
Education Applications Features
The scale and functionality of educational applications are determined by the main tasks it is focused on. Apps can be made for teachers, students, professionals, children, and just those who like to learn something new on their own.
Ultimately, educational app development costs are shaped by these factors on the basic level. Of course, there are ways to cut unnecessary expenses, which we discuss a little further below. And you can use monetization tools - paid services, like subscriptions, certificates, premium content, etc.
But first, let's look at the most popular types of applications in the niche just to give you a headstart.
Apps for physical establishments
The development of applications for educational institutions allows you to help universities and other establishments make the learning process more progressive. Such an application contains various tools to ease the workflow of both teachers and students, such as:
Electronic resources of an educational institution;
Information about the educational programs, conditions of entry, and specialties;
Features for communication and notifications of important dates and events.
Apps for educational platforms
The application for online schools collects a full range of educational materials and implements functionality that allows students to gain knowledge anywhere and anytime. We recommend reading our guide on developing an e-learning platform.
Major features of such applications usually include:
Clear structuring of the material and systematization of the learning process;
Easy-to-use navigation with an intuitive interface;
Tracking of the training progress in a personal account and electronic diary;
Interactive elements to increase student engagement;
Personalized settings for the requests and needs of each user;
Ability to monetize through the sale of paid content and subscriptions.
Knowledge base and directory solutions
Students, pupils, and teachers want to always have the necessary information at hand, so they actively use digital:
Reference books and directories;
Dictionaries;
Textbooks and knowledge bases on various subjects;
Libraries;
Collections of lectures, articles, reviews;
Bases of video and audio materials.
Testing solutions
Applications with tests help to solve important tasks, like:
Preparation for exams and testing when applying for a position;
Checking knowledge on the chosen subject;
Assessment of the level of knowledge of foreign languages.
Digital magazines
Many modern schools are moving from paper magazines to digital ones. This is a successful practice that provides many benefits, like:
Automated record of progress;
Centralized electronic diary;
Feedback between students and teachers;
Convenient class schedule;
Publication of news, announcements, and events.
Assisting apps
Students and pupils actively use auxiliary applications, such as:
Printed and handwritten text recognizers;
Notes;
Formula calculators;
Diaries;
Schedules;
Translators;
Task schedulers.
Mobile apps
Mobile products are best used to organize courses, pieces of training, seminars, and other educational programs. With a mobile application, the learning process can be built anywhere in the world, regardless of where students and teachers are located. All you need to get unlimited educational opportunities is a smartphone with access to the web.
Benefits of educational solutions
Convenience - a user gets a single solution where a variety of techniques are described and conveniently structured. In textbooks, a person still needs to find the information they need manually, but the application provides this information more clearly and easily.
Time-efficiency- an educational app saves time with a more concise presentation of information. It allows you to make learning interactive - that is, a person will almost immediately receive a response to their actions. For example, you may immediately find out whether you answered the test correctly.
Valuable stats - such apps contain valuable user statistics. For a user, this means the ability to observe the dynamics of learning and their (or their pupil's) current level of skill. For an app owner, this means business-pushing stats and actionable insights.
Personalization - a good educational solution can be personalized and customized to the user's heart's content. Gamification methods are all the hype here. The user receives new knowledge directly in the course of the game. Edutainment makes information much easier to assimilate for people of all ages.
A good app should be easy to use and inviting, but at the same time, provide a solution to relevant pains. On the other hand, new technologies are emerging that increase the cost to build an education app. They are influenced by the following factors:
Type and complexity
The specifics of the application are determined by the audience it is aimed at, the volume and types of data used, and the platform on which it is based. For instance, cross-platform solutions are considered the most expensive.
It all depends on the goals and objectives of a separate project. In each case, different levels of expertise will be required, so there can be no universal calculation of educational app development costs.
Implementation tools
The capabilities of the application should meet your goals and, of course, the expectations of its end users. The more advanced technologies are used, the more difficult the solution is to implement. Although, it will turn out much better, more modern, and more attractive. It is equally important that the features always remain high-performing. And this requires an extensive technology stack, more people, and more time. Accordingly, the price tag changes.
First off, you need an experienced team with profiled knowledge and professional skills. If you don't have one, you will have to train your own for a long time or look for trained specialists on the side. As a result, you will lose time and money, or the final cost to build an education app will largely determine the way of cooperation.
The best option is a dedicated team sourced by a trusted partner. Preferably from some country where the prices are optimal, and the level of training of developers is quite high. For example, from Ukraine or India. Such cooperation is more profitable since prices there are much lower than in the USA, Canada, and Western Europe.
The Final Figures
To accurately answer the question - how much does it cost to make an educational app?, you need to get an idea of the time and cost requirements for each step of the job. In-depth market research allows us to present very approximate average figures for applications of varying complexity:
Simple - ~$25,000;
Average - ~$50,000;
Complex - ~$75,000.
Based on the team location, their rates, and overall approach to implementation (MVP or scaled MVP), the final figures may also look as follows:
| Team location | Rate (per hour) | MVP (3 months) | Scaled MVP (6 months) |
| --- | --- | --- | --- |
| USA | $150 | $200,000 | $400,000 |
| India | $30 | $30,000 | $60,000 |
| Eastern Europe | $50 | $50,000 | $90,000 |
Depending on the focus (languages, mathematics, organization of the educational process, etc.), the cost can vary from $40,000 to $75,000. As we have already noted, the underlying platform is a defining factor as well. For example, native apps for devices running the most popular operating systems can cost up to $60,000, while a hybrid app can cost around $55,000.
The data are taken from open sources, so they are very approximate. Of course, in your particular case, the numbers can vary greatly. When your product is ready, it will have to be evaluated in terms of market fit. It will require expensive testing and QA in itself, so the costs will grow.
Furthermore, you will have to take into account the costs of marketing and maintenance. But in some cases, they can be one and a half times higher than the cost of development.
And if you do not want to handle the development yourself, it is important to find a partner who will provide the best condition
Why create a new mobile app with our help?
You get a unique product tailored to the specifics of the educational institution and the features of the educational program;
We work with the latest technologies, so your application will be fast and market-defining in terms of functionality;
Before the start of development, we draw up a detailed technical task so that the result meets your expectations exactly;
Terms of cooperation, prices, terms, and guarantees are all written down in the official contract;
After the launch, we provide support and promotion services for the application.
Bottom Line
It is important not only to create a good application at a reasonable budget. You will also need people to support it and keep it in line with the requirements of the time. These costs, as well as hosting, security, etc. will also have to be included in the budget. And over time, the app will inevitably have to be modernized. Who will be doing this? That's right, experts.
If you don't have them by your side at the moment, we'll be happy to help! The EXB Soft team has all the necessary competence, technology, and experience to build you a competitive learning app.
Contact us to start implementing a concept of any scale at a maximum reasonable cost to build an education app.